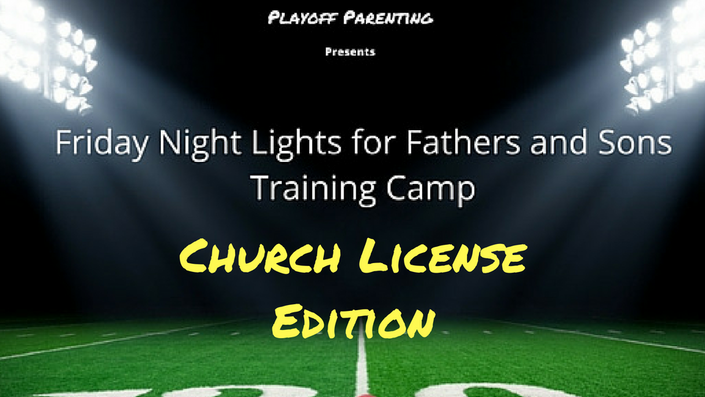 Friday Night Lights for Fathers and Sons TRAINING CAMP Church License
Design a 10-game season with your son to help develop him into the man God intended
Watch Promo
Hi! Mark LaMaster here, Chief Dad Developer at Playoff Parenting University!
I'm so glad that you stopped by. It's my pleasure to tell you about the Friday Night Lights for Fathers and Sons TRAINING CAMP Church License Edition!
"The father of the righteous will greatly rejoice; he who fathers a wise son will be glad in him."
-Proverbs 23:24
Look around you! Your church. Your community. Your city and beyond! What is missing? Yes, what's so obviously missing is men that are living to the full potential that God designed them to be. The media continues to show men as irresponsible, disrespectful, and ignorant.
I believe that we are in the midst of a massive men's movement that is being orchestrated by our Creator, leading men to become the husbands, fathers, and servants he designed us to be.
I also believe that it all starts at home with how we parent our sons. With all of the roles we have as men, fatherhood can easily be taken for granted. But, we must take action and equip our sons with the lessons that will lead them to become the young men God designed them to be.
That's why I created the Friday Night Lights for Fathers and Sons TRAINING CAMP!
TRAINING CAMP is designed specifically for fathers with sons between the ages of 6-14 years' old who want to transform their father/son relationship by developing a deeper connection with each other and with God.
Churches that purchase the Friday Night Lights for Fathers and Sons TRAINING CAMP
Church License members will have lifetime access to the course and will be licensed to speak and train members of your church and community utilizing the TRAINING CAMP Program material and resources. (Your church will keep 100% of the profits).
I designed this course to equip and encourage dads who might feel a bit discouraged or even defeated to discover tools that will lead to a deeper relationship with their sons. I also designed this course for older brothers, uncles, step-dads, grandpas, or any other significant male role model in the life of a boy or young man.

The Friday Night Lights for Fathers and Sons Training Camp offers live coaching calls, a private Facebook group, printable Game Day checklists, provoking thought exercises, and a community of like-minded dads who will encourage and support you on your quest to become the dad you always dreamed of becoming. I will be your coach and mentor throughout the entire Training Camp.

Training Camp is based on my book, Friday Night Lights for Fathers and Sons: Schedule a 10-game winning season to help develop your son into the man God intended him to be. If you've already picked up my book, Thank You!

My passion is to help good dads become GREAT Dads!

Here's a breakdown of what you will get once you purchase the Church License Edition of TRAINING CAMP:

Here is what is included in the Friday Night Lights for Fathers and Sons TRAINING CAMP Church License:
Head Coach's Playbook

-A comprehensive guidebook for the pastor or group leader (Team Analysis Questions for each Game Day, suggested meeting calendar, timeline, and options for customization)
18+ Sessions of video coaching and teaching by Mark LaMaster
-Includes Pre-Season, Regular Season, and Post-Season
Modules and ALL 10-Game Day Lessons:
• Character and Integrity
• Work and Money
• Internet, Gaming, and Pornography
• Prayer
• Faith
• Service
• Friendships
• Contentment
• Biblical Womanhood and Manhood
• The Armor of God
TRAINING CAMP KICKOFF Appearance and presentation by Mark LaMaster
-LIVE Presentation for local and regional churches and via SKYPE for distant churches
Individual Game Day Checklists (Printable forms for attendees)

Variety of Thought Exercises, Surveys, and Templates

TRAINING CAMP Church License includes Lifetime Access plus all upgrades

Marketing Resources
-Posters and Postcards (pdf files) customizable for your event -E-mail copy to promote your course
Daily access to Mark LaMaster via email, Facebook Messaging, or the Playoff Parenting Tribe Private Facebook Page

Membership in the Playoff Parenting Tribe (for all attendees)

-Ongoing support, encouragement, and prayer from the Playoff Parenting community. A tribe committed to your success.
30-day 100% Money-Back Guarantee

Your Instructor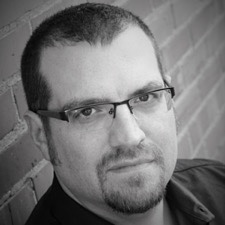 I am a coach, author, and speaker who equips and encourages dads to develop deeper relationships with their sons through intentionality, engagement, and ceremony, so they can fulfill their desire to raise them into the people God intended.
I recently published his first book, Friday Night Lights for Fathers and Sons, to help good dads become GREAT Dads by creating intentional, biblically based activities in the form of Game Days. Each of the Game Days in the 10-game season is designed to engage dads and their sons in conversation on topics ranging from faith and friends to prayer and purity.
You can download a FREE COPY of my "6 Steps to Planning a Game Day with your Son" in the form below. In this resource, I share the 6 steps I used to develop each one of the Game Days for fathers and sons.
You can stay connected with me, my events, and my future projects at:
MarkLaMaster.comFree Resource for Dads!
Use the same approach that I used to develop Game Days for my book, Friday Night Lights for Fathers and Sons with this FREE Resource! Each activity is intentional, engaging, and will strengthen your father/son relationship!
Class Curriculum
Welcome and Introduction to the Friday Night Lights for Fathers and Sons Training Camp!
Available in days
days after you enroll
Pre-Season
Available in days
days after you enroll